Webinar "How can strategy tools and approache help in a crisis situation?" by Prof. Pierre Dussauge
Webinar "How can strategy tools and approache help in a crisis situation?" by Prof. Pierre Dussauge
2020-06-09 17:00:00
2020-06-09 18:00:00
https://www.hecalumni.fr//medias/image/thumbnail_6727265415ec38488a3b40.png
When a crisis hits, as we are experiencing now with Covid-19, the economy goes into a tailspin, demand drops and firm profits plummet. Yet, not all industries and firms are affected in the same way. It is fairly straightforward to understand why the crisis-produced drop in demand will be much larger in some sectors of the economy than in others: if people are confined at home, air travel will drop to almost nothing, but video game sales may soar as a bored population seeks entertainment they can enjoy despite the lockdown.However, it is more intriguing why some industries and firms see their profitability drop disproportionately relative to the decline in sales: automobile or aircraft manufacturers are suffering a lot less than airlines despite the fact they have lost a similar portion of their business.And within the airline business, Air France-KLM is suffering more than Ryanair. Strategy analysis can help us make sense of these apparent inconsistencies and, more importantly, anticipate the impact of a crisis on a given firm.Pierre Dussauge,Associate Professor HEC ParisPierre Dussauge holds an Msc. degree from HEC and earned a Ph.D. in Management Science from Paris-Dauphine University. He was a visiting professor of Corporate Strategy and International Business at the Ross Business School of the University of Michigan (Ann Arbor) from 1991 to 2003; he has also had teaching assignments at INSEAD (Fontainebleau, France), at IESE (Barcelona, Spain), at INCAE (Costa Rica), at the Indian School of Business (Hyderabad), at Tsinghua University (Beijing, China).Register
https://www.hecalumni.fr/event/webinar-how-can-strategy-tools-and-approache-help-in-a-crisis-situation-by-prof-pierre-dussauge/2020/06/09/6639
La date limite de clôture des inscriptions est passée.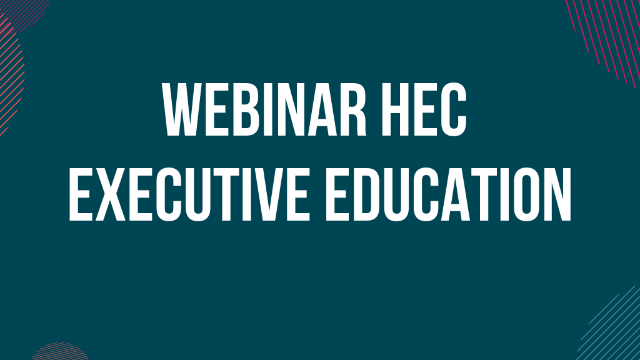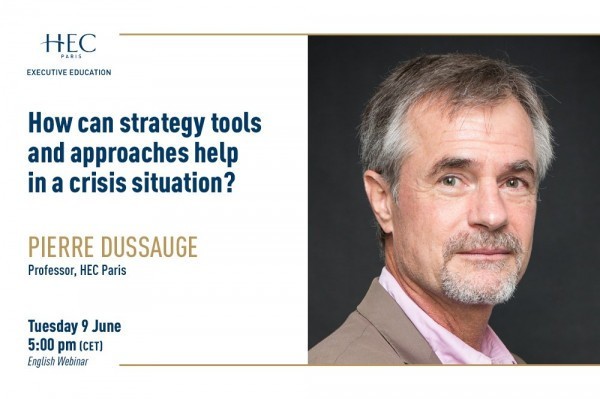 When a crisis hits, as we are experiencing now with Covid-19, the economy goes into a tailspin, demand drops and firm profits plummet. Yet, not all industries and firms are affected in the same way. It is fairly straightforward to understand why the crisis-produced drop in demand will be much larger in some sectors of the economy than in others: if people are confined at home, air travel will drop to almost nothing, but video game sales may soar as a bored population seeks entertainment they can enjoy despite the lockdown.

However, it is more intriguing why some industries and firms see their profitability drop disproportionately relative to the decline in sales: automobile or aircraft manufacturers are suffering a lot less than airlines despite the fact they have lost a similar portion of their business.

And within the airline business, Air France-KLM is suffering more than Ryanair. Strategy analysis can help us make sense of these apparent inconsistencies and, more importantly, anticipate the impact of a crisis on a given firm.


Pierre Dussauge,
Associate Professor HEC Paris
---

Pierre Dussauge holds an Msc. degree from HEC and earned a Ph.D. in Management Science from Paris-Dauphine University. He was a visiting professor of Corporate Strategy and International Business at the Ross Business School of the University of Michigan (Ann Arbor) from 1991 to 2003; he has also had teaching assignments at INSEAD (Fontainebleau, France), at IESE (Barcelona, Spain), at INCAE (Costa Rica), at the Indian School of Business (Hyderabad), at Tsinghua University (Beijing, China).
Carrières - HEC Life Project