Official HEC Executive MBA Reunion 2019
Official HEC Executive MBA Reunion 2019
2019-09-21 09:00:00
2019-09-21 17:00:00
https://www.hecalumni.fr//medias/image/thumbnail_19304488535d70d16a9346a.jpg
CAMPUS HEC
1, Rue de la Libération
JOUY-EN-JOSAS
78350
FR
Official HEC Executive MBA Reunion 2019 [Buy tickets here!]Dear Alumni of Classes 2015, 2016, 2017 & 2018,Your wish is to re-connect with your EMBA friends, relive your EMBA adventure and find out more about each other's projects?This event was especially designed for you. The plan is to welcome you, and your close relatives if you wish (partner and children), on campus from 9am to 5pm on Saturday 21 September. You will be free in the evening to meet with your former classmates. Therefore, without further ado, here is some important information to clarify how your Reunion weekend might look: Partner ticket: Saturday on Campus 60€Alumni Ticket: Saturday on Campus 100€Children: For freeHere is a quick overview of all the events planned for the reunion weekend:This schedule is subject to change and will be updated as the different elements are finalized.About our Professor and VIP Guest Speaker:Professor Frédéric GodartAssociate professor at HEC ParisOltion CarkaxhijaSenior Vice President Transformation at AFKLMEssential Information Registration & TicketsRegistration is now open Registration is online, through the HEC Alumni portal, and requires signing in to your alumni email address (e.g.: sam.smith@mailhec.com). If you have trouble logging in, you may need to change your password or activate your account. If you are unable to log-in, please click on your left to update your alumni profile: "No account yet / Sign up" Ticket pricing is per person. 100€ Alumni ticket: Saturday on Campus60€ Partner ticket: Saturday on CampusThere is a limited number of places so registration will be done on a first-come, first-served basis.Deadline for registration and payment is September 8, 2019  We are looking forward to celebrating with you and sharing exciting new developments about the EMBA program!Contact: If you have any questions, please do reach out to us at emba-reunion@hec.fr  Organized by the EMBA Team
https://www.hecalumni.fr/event/official-hec-executive-mba-reunion-2019/2019/09/21/5047
Promos - 3763 vues - 82 participants
samedi 21 septembre 2019
09:00 - 17:00
CAMPUS HEC

JOUY-EN-JOSAS FRANCE
La date limite de clôture des inscriptions est passée.
Official HEC Executive MBA Reunion 2019 [Buy tickets here!]

Dear Alumni of Classes 2015, 2016, 2017 & 2018,
Your wish is to re-connect with your EMBA friends, relive your EMBA adventure and find out more about each other's projects?
This event was especially designed for you. The plan is to welcome you, and your close relatives if you wish (partner and children), on campus from 9am to 5pm on Saturday 21 September. You will be free in the evening to meet with your former classmates.
Therefore, without further ado, here is some important information to clarify how your Reunion weekend might look:


Partner ticket: Saturday on Campus 60€
Alumni Ticket: Saturday on Campus 100€
Children: For free
Here is a quick overview of all the events planned for the reunion weekend: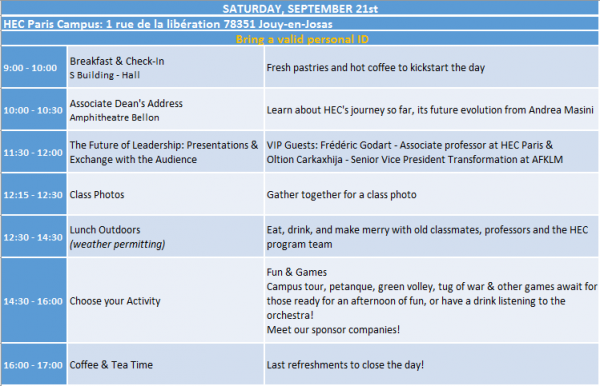 This schedule is subject to change and will be updated as the different elements are finalized.
About our Professor and VIP Guest Speaker:
Professor Frédéric Godart

Associate professor at HEC Paris

Senior Vice President Transformation at AFKLM

Essential Information


Registration & Tickets
Registration is now open


Registration is online, through the HEC Alumni portal, and requires signing in to your alumni email address (e.g.:

sam.smith@mailhec.com

). If you have trouble logging in, you may need to change your password or activate your account. If you are unable to log-in, please click on your left to update your alumni profile: "No account yet / Sign up"


Ticket pricing is per person.

100€ Alumni ticket: Saturday on Campus

60€ Partner ticket: Saturday on Campus


There is a limited number of places so registration will be done on a first-come, first-served basis.

Deadline for registration and payment is September 8, 2019

We are looking forward to celebrating with you and sharing exciting new developments about the EMBA program!

Contact: If you have any questions, please do reach out to us at emba-reunion@hec.fr

Organized by the EMBA Team