FORUM HEC ALUMNI / HEC ALUMNI FORUM
FORUM HEC ALUMNI / HEC ALUMNI FORUM
2019-01-16 09:00:00
2019-01-17 13:00:00
https://www.hecalumni.fr//medias/image/thumbnail_3990114695c00f6dde3f08.jpg
Campus HEC
1, Rue de la Libération
JOUY-EN-JOSAS
78350
FR
Préparez-vous aux Carrefours HEC avec le FORUM HEC ALUMNI 2019It's time to prepare for "Carrefours HEC" with the HEC ALUMNI FORUM 2019  Mercredi 16 janvier - Sur le campus   Wednesday, January 16 th - On campus  MATINEE/ MORNING9:00-9:30                              Country conference, free access, Singapore & Hong-KongRoom T301                           Maire O'Loughlin Apiou (E.00), Hong-Kong Representative - HEC Paris9:30-10:30                         « Conquering the Career Fairs » Conference, free access         T301                                       Sophie Drouard, Career & Corporate Development Manager - HEC Paris                                                   Nadia Crobeddu, Career & Corporate Development Manager-HEC Paris10:30-12:30                           Ateliers Entretiens blancs (généralistes) avec des alumni.  Rooms tbc                              Inscription sur le Career Center                                                       Mock interview sessions (general) with alumni.                                                       Registration required on the Career Center10:30-12:30                           Ateliers de relecture de CV (généralistes) avec des alumni –Rooms T202,, 203, 32        Inscription sur le Career Center& 33                                              CV check sessions (general) with alumni.                                                       Registration required on the Career Center10:30-11:30                        « Key tips of Linkedin to be recruited » Conference, free accessT307                                        Cyril Bladier (E.07), Expert in social & virtual networks – Business On Line11:45-12:45                      Ateliers de relecture de profil LinkedinT301                                      Cyril Bladier (E.07), Expert in social & virtual networks – Business On Line                                                  Inscription sur le Career Center                                                  Linkedin profile check sessions                                                  Registration required on the Career Center11:45-12:45                   « Dream job: finding the right fit » Conference, free accessT305                                    Daniel Porot, Career Expert11:45-12:45                   « Pitch » Conference, free access                  T307                                   Mathieu Chausset, Career and Corporate Development Manager - HEC                                                             Paris 12:45 – 14: 00            PAUSE / BREAK                                           APRES MIDI / AFTERNOON14:00-15:30     Conférences débats multi-secteurs " Tout savoir sur les nouveaux jobs", accès libre / Multi-sectorals Conferences Debates "Know everything about new jobs", free access                      T206                 Marketing – Innovation - Creativity & EntrepreneurshipProblématique : Comment la transformation actuelle, en particulier digitale, impacte la façon de travailler dans les secteurs et ouvre de nouvelles opportunités pour les étudiants ?Intervenants : Sabine Hillenmeyer (H.88), Digital Partner - Kea EuclydClara Schisler, Director of retail development Lancôme International L'Oréal - Directrice Générale et co-Fondatrice de MadameMonsieurMats Carduner (H.90), Co-Founder & CEO Fifty FiveConférence animée par Violaine Amigues (H.91), Consultante, Eric Salmon & PartnersT307                 Conference : Finance & StrategySubject : How is the search for new business models impacting competencies and positions within these sectors?Speakers :Olivier Casanova (H.89), CFO Group, TereosThomas Videlaine (H.99), CFO, Form DéveloppementFrançois-Xavier Mauron (H.01), Associate Director, Edmond de Rothschild Investment PartnersGrégory Garnier (H.02), Managing Director, Advisory, Head of Strategic Transactions Group, HSBC FranceConference hosted by Bernard Le Gendre (H.02), Director Corporate Finance, Hottinguer BankCes deux conférences aborderont les sujets suivants :- De nouvelles compétences recherchées dans ces secteurs- Les évolutions récentes des modes de management- Les opportunités de croissance émergentes- Et bien sûr, les conseils pratiques de chacun des intervenants.These two conferences will address the following subjects :- New competences required for this sectors- Changes in management models- New opportunities for growth- And last but not least, practical advice from all of the speakers 14:00-18:00                HEC Photo ProGalerie Nord               Séance de portraits professionnels - 10€ en pré-vente, 15€ sur place, réservé                                              aux 40 premiers inscrits                                    réservez votre séance ici                                           North Gallery               Professional portraits Session – 10€ in pre-sales, 15€ on the spot, reserved                                                  for the first 40 registered                                    Click here to register14:15-15:15                  Ateliers de relecture de profil LinkedinT14                                     Cyril Bladier (E.07), Expert in social & virtual networks – Business On Line                                              Inscription sur le Career Center                                              Linkedin profile check sessions.                                             Registration required on the Career Center15:30-18:00                Country Conferences, free access          15:30-16:15                 Beijing, Shanghai & Shenzhen       T203                                 Elodie Xu, Director, HEC Executives Education Activities in China at HEC                                                        Paris 15:30-16:15                 Switzerland , Aude Metton (H.98) Executive CoachT202                      16:15-17:00                 Germany ,  Olga Hein, Director Germany Office – HEC ParisT20316:15-17:00                France, Aude Metton (H.98), Executive CoachT202                                 Siân Feuillade (M.06), HR Director - Reed Exposition17:15-18:00                UK & Ireland, Marguerite Gallant (H.04), Director London Office – HEC ParisT203                                Tony Somers, Director Employer Engagement –HEC Paris18:00-18:45                 USA & Canada ,T202                                  Vincent Muzelle (M.08), Director NY Office - HEC Paris                                                                Jeudi 17 janvier – Sur le campus   Thursday, January 17 th - On campus  MATINEE/ MORNING10:00-12:30                 Speed-mentoring (M2, MS, MSc, MBA, EMBA) inscription ici / register hereHall d'honneur               Atelier ouvert uniquement aux cotisants, réservé aux 90 premiers inscrits.Hall of honor                 Session only available to people who have paid their membership fees, limited to the first 90 students. 
https://www.hecalumni.fr/event/forum-hec-alumni-hec-alumni-forum/2019/01/16/4516
Carrières - 3173 vues
mercredi 16 janvier 2019
mercredi 16 janvier 2019 à jeudi 17 janvier 2019 13:00
Campus HEC

JOUY-EN-JOSAS FRANCE
Préparez-vous aux Carrefours HEC
avec le FORUM HEC ALUMNI 2019
It's time to prepare for "Carrefours HEC"
with the HEC ALUMNI FORUM 2019
Mercredi 16 janvier - Sur le campus
Wednesday, January 16 th - On campus


MATINEE/ MORNING
9:00-9:30 Country conference, free access, Singapore & Hong-Kong
Room T301 Maire O'Loughlin Apiou (E.00), Hong-Kong Representative - HEC Paris
9:30-10:30 « Conquering the Career Fairs » Conference, free access
T301 Sophie Drouard, Career & Corporate Development Manager - HEC Paris
Nadia Crobeddu, Career & Corporate Development Manager-HEC Paris

10:30-12:30 Ateliers Entretiens blancs (généralistes) avec des alumni.
Rooms tbc Inscription sur le Career Center
Mock interview sessions (general) with alumni.
Registration required on the Career Center

10:30-12:30 Ateliers de relecture de CV (généralistes) avec des alumni –
Rooms T202,, 203, 32 Inscription sur le Career Center
& 33 CV check sessions (general) with alumni.
Registration required on the Career Center

10:30-11:30 « Key tips of Linkedin to be recruited » Conference, free access
T307 Cyril Bladier (E.07), Expert in social & virtual networks – Business On Line

11:45-12:45 Ateliers de relecture de profil Linkedin
T301 Cyril Bladier (E.07), Expert in social & virtual networks – Business On Line
Inscription sur le Career Center
Linkedin profile check sessions
Registration required on the Career Center

11:45-12:45 « Dream job: finding the right fit » Conference, free access
T305 Daniel Porot, Career Expert

11:45-12:45 « Pitch » Conference, free access
T307 Mathieu Chausset, Career and Corporate Development Manager - HEC Paris

12:45 – 14: 00 PAUSE / BREAK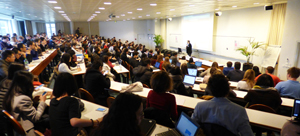 APRES MIDI / AFTERNOON


14:00-15:30 Conférences débats multi-secteurs " Tout savoir sur les nouveaux jobs", accès libre / Multi-sectorals Conferences Debates "Know everything about new jobs", free access

T206 Marketing – Innovation - Creativity & Entrepreneurship
Problématique : Comment la transformation actuelle, en particulier digitale, impacte la façon de travailler dans les secteurs et ouvre de nouvelles opportunités pour les étudiants ?
Sabine Hillenmeyer (H.88), Digital Partner - Kea Euclyd
Clara Schisler, Director of retail development Lancôme International L'Oréal - Directrice Générale et co-Fondatrice de MadameMonsieur
Mats Carduner (H.90), Co-Founder & CEO Fifty Five

Conférence animée par Violaine Amigues (H.91), Consultante, Eric Salmon & Partners

T307 Conference : Finance & Strategy
Subject : How is the search for new business models impacting competencies and positions within these sectors?

Speakers :
Olivier Casanova (H.89), CFO Group, Tereos
Thomas Videlaine (H.99), CFO, Form Développement
François-Xavier Mauron (H.01), Associate Director, Edmond de Rothschild Investment Partners
Grégory Garnier (H.02), Managing Director, Advisory, Head of Strategic Transactions Group, HSBC France
Conference hosted by Bernard Le Gendre (H.02), Director Corporate Finance, Hottinguer Bank

Ces deux conférences aborderont les sujets suivants :
- De nouvelles compétences recherchées dans ces secteurs
- Les évolutions récentes des modes de management
- Les opportunités de croissance émergentes
- Et bien sûr, les conseils pratiques de chacun des intervenants.

These two conferences will address the following subjects :
- New competences required for this sectors
- Changes in management models
- New opportunities for growth
- And last but not least, practical advice from all of the speakers

14:00-18:00 HEC Photo Pro
Galerie Nord Séance de portraits professionnels - 10€ en pré-vente, 15€ sur place, réservé aux 40 premiers inscrits
réservez votre séance ici
North Gallery Professional portraits Session – 10€ in pre-sales, 15€ on the spot, reserved for the first 40 registered

14:15-15:15 Ateliers de relecture de profil Linkedin
T14 Cyril Bladier (E.07), Expert in social & virtual networks – Business On Line
Inscription sur le Career Center
Linkedin profile check sessions.
Registration required on the Career Center

15:30-18:00 Country Conferences, free access
15:30-16:15 Beijing, Shanghai & Shenzhen
T203 Elodie Xu, Director, HEC Executives Education Activities in China at HEC Paris


15:30-16:15 Switzerland , Aude Metton (H.98) Executive Coach
T202

16:15-17:00 Germany , Olga Hein, Director Germany Office – HEC Paris
T203

16:15-17:00 France, Aude Metton (H.98), Executive Coach
T202 Siân Feuillade (M.06), HR Director - Reed Exposition
17:15-18:00 UK & Ireland, Marguerite Gallant (H.04), Director London Office – HEC Paris
T203 Tony Somers, Director Employer Engagement –HEC Paris
18:00-18:45 USA & Canada ,
T202 Vincent Muzelle (M.08), Director NY Office - HEC Paris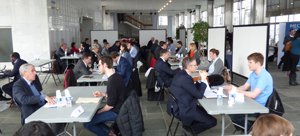 Jeudi 17 janvier – Sur le campus
Thursday, January 17 th - On campus


MATINEE/ MORNING

10:00-12:30 Speed-mentoring (M2, MS, MSc, MBA, EMBA) inscription ici / register here
Hall d'honneur Atelier ouvert uniquement aux cotisants, réservé aux 90 premiers inscrits.

Hall of honor Session only available to people who have paid their membership fees, limited to the first 90 students.