FIRST EVER HEC UK ALUMNI VIRTUAL EVENING - Join the largest, most innovative and valuable networking reception
FIRST EVER HEC UK ALUMNI VIRTUAL EVENING - Join the largest, most innovative and valuable networking reception
2020-09-24 18:30:00
2020-09-24 20:00:00
https://www.hecalumni.fr//medias/image/thumbnail_9344562705f48e461a57c0.png
REMO : Your Networking platformLink to connect to the Networking Night: https://live.remo.co/e/first-ever-hec-alumni-virtual-neIf you still can't access Remo after turning your video and mic on and restarting your computer,  please click on https://us02web.zoom.us/j/88071229231 (ID: 880 7122 9231 / Code : 308286) between 6:30pm and 7pm BST Thursday 24th Sept.FIRST EVER HEC UK ALUMNI VIRTUAL EVENINGDuring the first half of 2020, the HEC Paris Network has shown, once again, why it was ranked #1 Network in the world (The Economist 2019): Solidarity for the community around the world, development of new online services...  The UK hosts the biggest overseas community of HEC Alumni with 3,000+ alumni in London. How about you ? Do you know your HEC network in the UK? Join the largest, most innovative and valuable networking reception you've ever had:Thursday 24th September6:30pm to 8:00pmWhy Join? - HEC in the UK's LARGEST VIRTUAL EVENT: Back to school, a great time to  JOIN TOGETHER WITH THE HEC COMMUNITY. - The MOST INNOVATIVE EVENT done at HEC in the UK: An exceptional networking opportunity thanks to an INNOVATIVE & INTERACTIVE PLATFORM which allows you to easily meet people as if you were at a cocktail party.- The MOST VALUABLE event: An EFFECTIVE EVENING FROM THE COMFORT OF YOUR HOUSE, we promise you will meet many people.Join us and meet fellow alumni based in the UK, meet old friends, network, learn and have fun in this virtual reception!  Contact alyssa.dominioni@hecalumni.fr for questions or suggestions. 
https://www.hecalumni.fr/group/united-kingdom-hec-uk-alumni/109/calendar/first-ever-hec-uk-alumni-virtual-evening-join-the-largest-most-innovative-and-valuable-networking-reception/2020/09/24/6776
La date limite de clôture des inscriptions est passée.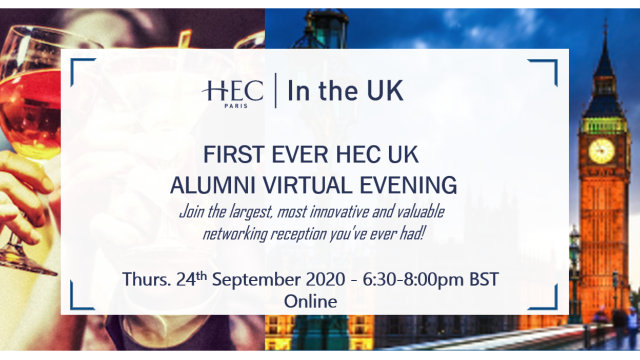 REMO : Your Networking platform
Link to connect to the Networking Night: https://live.remo.co/e/first-ever-hec-alumni-virtual-ne
If you still can't access Remo after turning your video and mic on and restarting your computer, please click on https://us02web.zoom.us/j/88071229231 (ID: 880 7122 9231 / Code : 308286) between 6:30pm and 7pm BST Thursday 24th Sept.
FIRST EVER HEC UK ALUMNI VIRTUAL EVENING
During the first half of 2020, the HEC Paris Network has shown, once again, why it was ranked #1 Network in the world (The Economist 2019): Solidarity for the community around the world, development of new online services...
The UK hosts the biggest overseas community of HEC Alumni with 3,000+ alumni in London.
How about you ? Do you know your HEC network in the UK?
Join the largest, most innovative and valuable networking reception you've ever had:

Thursday 24th September
6:30pm to 8:00pm
Why Join?

- HEC in the UK's LARGEST VIRTUAL EVENT: Back to school, a great time to JOIN TOGETHER WITH THE HEC COMMUNITY.
- The MOST INNOVATIVE EVENT done at HEC in the UK: An exceptional networking opportunity thanks to an INNOVATIVE & INTERACTIVE PLATFORM which allows you to easily meet people as if you were at a cocktail party.
- The MOST VALUABLE event: An EFFECTIVE EVENING FROM THE COMFORT OF YOUR HOUSE, we promise you will meet many people.
Join us and meet fellow alumni based in the UK, meet old friends, network, learn and have fun in this virtual reception!
Contact alyssa.dominioni@hecalumni.fr for questions or suggestions.