"CEO Activism" Webinar with Georg Wernicke - HEC Executive Education
"CEO Activism" Webinar with Georg Wernicke - HEC Executive Education
2020-11-10 11:00:00
2020-11-10 12:00:00
https://www.hecalumni.fr//medias/image/thumbnail_13035772105f803c2eea907.png
CEO ACTIVISM REGISTER HEREFor those of you interested in governance, the HEC UK Governance club would like to direct your attention to this HEC Executive Education webinar:About this webinar CEO activism is an executive's act of publicly weighing in on a matter of current social or political debate that is largely unrelated to the company's core business. Historically, it was rare for corporate leaders to take a public stand on issues of public concern, but since the mid-2010s, CEO activism has gained momentum, and recent evidence suggests it is developing into a global movement.CEO activism is a controversial practice. When a CEO takes a stand about a public concern, this can trigger both favorable and disapproving reactions among the public. Date: November 10, 2020 Time: 12:00 Noon (CET) / 11:00am LondonREGISTRATION : https://page.hec.edu/20201110-CEO-Activism_01-Registration-page.html#email-formAbout Professor Georg WernickeGeorg Wernicke's research is on topics in, and at the intersection of, corporate governance and corporate social responsibility (CSR), broadly defined. More specifically, he is interested in the drivers of public disapproval of firms' practices, for example the compensation firms pay to their CEOs, how firms' prosocial activities affect disapproval, and, in turn, which subset of firms and CEOs reacts to being targeted. Georg also analyzes how the characteristics and values of CEOs affect firm level outcomes such as corporate misconduct or the adoption of prosocial practices, as well as how demographic minority status affects labor-market outcomes for directors after occurrences of financial fraud. Furthermore, Georg engages in projects that explore the antecedents of superior firm performance on CSR.Georg received his Ph.D. in Management from the University of Mannheim and is a graduate of the University College London and Humboldt University of Berlin. His Ph.D. dissertation was awarded with the Oxford University Centre for Corporate Reputation Best Dissertation Award. His research won or was shortlisted for a number of Best Conference Papers Awards and been pubslished in Organization Science and the Strategic Management Journal, besides others. As conference reviewer, he has been recognized with multiple Best Reviewer Awards.Before joining the HEC Paris faculty, Georg was an Assistant Professor in Corporate Governance at Copenhagen Business School and a visiting scholar at Stern School of Business/NYU, the University of Antwerp, Kellogg School of Management/Northwestern University and at INSEAD. In Copenhagen, he taught courses in General Management, Corporate Governance, Sustainability and Social Responsibility as well as in Strategy and International Business. In 2016, he has been nominated for the CBS wide Best Teacher Award. At HEC Paris, Georg teaches Strategic Management. 
https://www.hecalumni.fr/group/united-kingdom-hec-uk-alumni/109/calendar/-ceo-activism-webinar-with-georg-wernicke-hec-executive-education/2020/11/10/6990
La date limite de clôture des inscriptions est passée.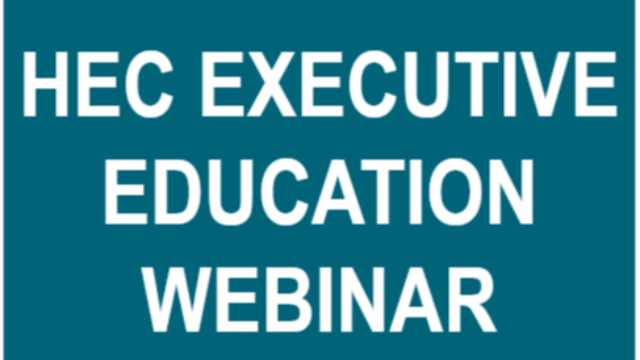 CEO ACTIVISM
REGISTER HERE
For those of you interested in governance, the HEC UK Governance club would like to direct your attention to this HEC Executive Education webinar:
About this webinar
CEO activism is an executive's act of publicly weighing in on a matter of current social or political debate that is largely unrelated to the company's core business. Historically, it was rare for corporate leaders to take a public stand on issues of public concern, but since the mid-2010s, CEO activism has gained momentum, and recent evidence suggests it is developing into a global movement.
CEO activism is a controversial practice.

When a CEO takes a stand about a public concern, this can trigger both favorable and disapproving reactions among the public.
Date: November 10, 2020
Time: 12:00 Noon (CET) / 11:00am London
REGISTRATION : https://page.hec.edu/20201110-CEO-Activism_01-Registration-page.html#email-form
About Professor Georg Wernicke
Georg Wernicke's research is on topics in, and at the intersection of, corporate governance and corporate social responsibility (CSR), broadly defined. More specifically, he is interested in the drivers of public disapproval of firms' practices, for example the compensation firms pay to their CEOs, how firms' prosocial activities affect disapproval, and, in turn, which subset of firms and CEOs reacts to being targeted. Georg also analyzes how the characteristics and values of CEOs affect firm level outcomes such as corporate misconduct or the adoption of prosocial practices, as well as how demographic minority status affects labor-market outcomes for directors after occurrences of financial fraud. Furthermore, Georg engages in projects that explore the antecedents of superior firm performance on CSR.
Georg received his Ph.D. in Management from the University of Mannheim and is a graduate of the University College London and Humboldt University of Berlin. His Ph.D. dissertation was awarded with the Oxford University Centre for Corporate Reputation Best Dissertation Award. His research won or was shortlisted for a number of Best Conference Papers Awards and been pubslished in Organization Science and the Strategic Management Journal, besides others. As conference reviewer, he has been recognized with multiple Best Reviewer Awards.
Before joining the HEC Paris faculty, Georg was an Assistant Professor in Corporate Governance at Copenhagen Business School and a visiting scholar at Stern School of Business/NYU, the University of Antwerp, Kellogg School of Management/Northwestern University and at INSEAD. In Copenhagen, he taught courses in General Management, Corporate Governance, Sustainability and Social Responsibility as well as in Strategy and International Business. In 2016, he has been nominated for the CBS wide Best Teacher Award. At HEC Paris, Georg teaches Strategic Management.
Diffusé sur :
Ivory Coast, USA - New York, Japan, China - Hong-Kong, Germany, China, USA - West Coast, USA - Florida, USA - Boston, USA - Midwest, USA Washington DC, USA - Los Angeles