WELCOME TO THE HEC UK COMMUNITY!
The UK hosts the largest HEC alumni community outside of France with an estimated 3,000 alumni or more. The UK Alumni Chapter is very active, organizing close to 100 events per year including 1 annual Gala, social gatherings, conferences, career workshops and many more events designed for you. 
DID YOU KNOW?
HEC has a representative office in the UK, with a team of 3 full-time staff in London: Delphine Mourot (H.03), Alyssa Dominioni (MBA.18) and Lauren Onthank.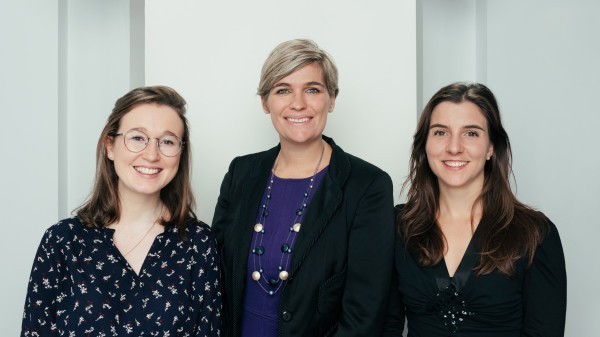 The HEC UK office team promotes the HEC brand in the UK and engages alumni around HEC activities. The team is also available to help you navigate the UK market and update you on HEC news. Read more about the HEC UK Office.
The HEC UK Alumni Chapter is led by Karim Saddi (H.97), President, and Herve Hatt (H.86), Vice-President. The Board meets regularly to set the vision for the Chapter, improve the experience for volunteers and ensure that the Chapter animation and services address the needs of the community well. 
LOTS HAPPENING!
Whatever you are after, the HEC UK Alumni network is here for you. Become a member to:
- Join HEC UK events & Learn (panels, webinars, workshops, forums)
- Get involved (clubs include HEC Finance, UK Art, Emerging Markets, Entrepreneurs, Digital, HEC Women, HEC Wine, Sustainability, Governance...)
- Advance your career thanks to HEC Life Project (career workshops, coaching sessions, tips, GoingGlobal...)
- Meet new people.
HOW TO CONNECT
1/ Please update your contact details on this HEC Alumni website ("I forgot my password" link if needed)
2/ Make sure you are part of the UK Group to receive our monthly UK newsletter
3/ Join the "HEC UK Alumni" Whatsapp group (message 00447534692903 with your full name & promo).
4/ Follow the 2 HEC UK Linkedin Pages : HEC in the UK News and/or HEC UK Career Development
5/ Follow the Instagram account www.instagram.com/hecintheuk/
6/ For all Miscellaneous (accommodation, special deals, selling tickets...) visit the HEC Paris Alumni in London Facebook page 
REMEMBER!
The more you share, the more you grow!
We look forward to meeting you in person soon, 
The HEC UK Office Team 


 Note : Special discounts and access to extra services is available for fee-paying and Infinity Pass members: join a wonderful network with opportunities for professional encounters, discussions and inspiration by saying YES to the Infinity Pass. www.hecalumni.fr/page/nouveaux-services