WEBINAR - Sectoral Effects of Social Distancing by Jean-Noël Barrot
WEBINAR - Sectoral Effects of Social Distancing by Jean-Noël Barrot
2020-04-21 15:30:00
2020-04-21 17:00:00
https://www.hecalumni.fr//medias/image/thumbnail_13457429625e96c05864684.png
 Zoom S&O Research SeminarThe S&O Center is delighted to invite you to its next Zoom Interactive Conference : April 21st - 3.30 p.m. to 5.00 p.m.Our pleasure is to welcome a remarkable guest speaker: HEC Associate Professor of Finance and Member of French Parliament Jean-Noël Barrot. He will do a presentation on a hot topic ofSectoral Effects of Social Distancing followed by questions & answers.Abstract of the paper : Sectoral effects of social distancingThe health crisis caused by the outbreak of the Covid-19 virus has led many states to take drastic measures of social distancing. By reducing the amount of work, these measures in turn lead to a drop in activity which is difficult to quantify without taking into account the overlapping of sectors. Starting from a standard model of production networks, we analyze the sectoral effects of the shock in the case of France. It is estimated that six weeks of social distancing brings GDP down by 5.6%. Apart from the sectors directly concerned by social distancing measures, those whose added value decreases the most are the upstream sectors, that is to say those furthest from final demand. We estimate the effect of progressive phasing out of social distancing by sector, age, and region.Confirm your participation by sending an email toIiris Sacchet, sacchet@hec.fr 
https://www.hecalumni.fr/event/webinar-sectoral-effects-of-social-distancing-by-jean-noel-barrot/2020/04/21/6494
La date limite de clôture des inscriptions est passée.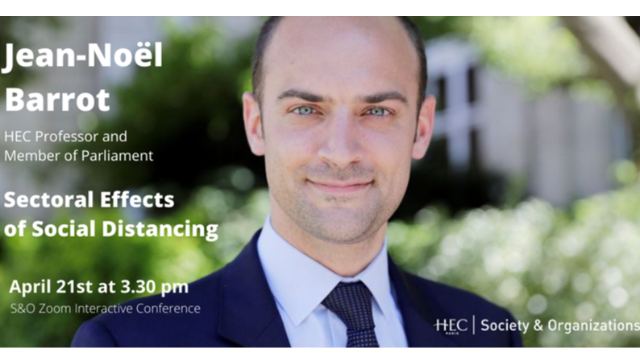 Zoom S&O Research Seminar
The S&O Center is delighted to invite you to its next Zoom Interactive Conference :
April 21st - 3.30 p.m. to 5.00 p.m.
Our pleasure is to welcome a remarkable guest speaker:
HEC Associate Professor of Finance and Member of French Parliament Jean-Noël Barrot.
He will do a presentation on a hot topic ofSectoral Effects of Social Distancing followed by questions & answers.
Abstract of the paper : Sectoral effects of social distancing
The health crisis caused by the outbreak of the Covid-19 virus has led many states to take drastic measures of social distancing. By reducing the amount of work, these measures in turn lead to a drop in activity which is difficult to quantify without taking into account the overlapping of sectors. Starting from a standard model of production networks, we analyze the sectoral effects of the shock in the case of France. It is estimated that six weeks of social distancing brings GDP down by 5.6%. Apart from the sectors directly concerned by social distancing measures, those whose added value decreases the most are the upstream sectors, that is to say those furthest from final demand. We estimate the effect of progressive phasing out of social distancing by sector, age, and region.
Confirm your participation by sending an email to
Iiris Sacchet, sacchet@hec.fr
Diffusé sur :
United Kingdom - HEC UK Alumni, Germany