Webinar EXED "Leading effective remote teams" by Prof. Patrick Delamaire- 16 April
Webinar EXED "Leading effective remote teams" by Prof. Patrick Delamaire- 16 April
2020-04-16 17:00:00
2020-04-16 18:00:00
https://www.hecalumni.fr//medias/image/thumbnail_6424773095e7e0cb930888.png
This webinar is aimed at the leaders, managers and coordinators of remote teams. The main objective is to enable you to reflect on some of the key aspects of leadership in your specific context of remote management. This highly interactive webinar features exercises that require the active contribution of all the participants. Patrick Delamaire is adjunct professor at HEC Paris, in executive education programs and at the "grande école". He is academic director of several HEC programs in Europe and Asia, is executive coach - in international and multicultural environments - and co-developed the Global Executive Coaching program at HEC. He is also associate professor at Polytech Paris-Saclay where he coordinates the pedagogy of several courses. His fields of expertise are leadership, especially in geographically dispersed teams, coaching, change, and communication.https://page.hec.edu/20200416-Leading-effective-remote-teams_01-Registration-Page.html
https://www.hecalumni.fr/event/webinar-exed-leading-effective-remote-teams-by-prof-patrick-delamaire-16-april/2020/04/16/6436
La date limite de clôture des inscriptions est passée.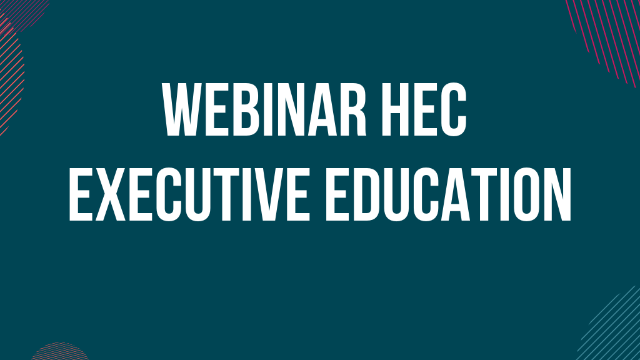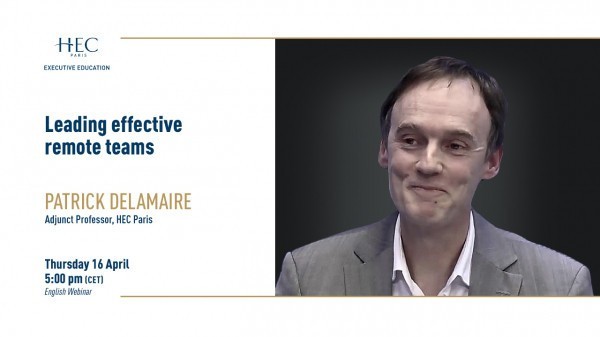 This webinar is aimed at the leaders, managers and coordinators of remote teams.
The main objective is to enable you to reflect on some of the key aspects of leadership in your specific context of remote management. This highly interactive webinar features exercises that require the active contribution of all the participants.
Patrick Delamaire is adjunct professor at HEC Paris, in executive education programs and at the "grande école". He is academic director of several HEC programs in Europe and Asia, is executive coach - in international and multicultural environments - and co-developed the Global Executive Coaching program at HEC. He is also associate professor at Polytech Paris-Saclay where he coordinates the pedagogy of several courses. His fields of expertise are leadership, especially in geographically dispersed teams, coaching, change, and communication.
https://page.hec.edu/20200416-Leading-effective-remote-teams_01-Registration-Page.html
Carrières - HEC Life Project
Diffusé sur :
United Kingdom - HEC UK Alumni, Germany