Boost Your HEC Network in... Asia #RegionalWebinarSeries
Boost Your HEC Network in... Asia #RegionalWebinarSeries
2020-07-09 12:00:00
2020-07-09 13:00:00
https://www.hecalumni.fr//medias/image/thumbnail_8069861025ef47ac74e414.png
"Boost Your HEC Network in... Asia"#RegionalWebinarSeries Ever wondered who you can contact before moving to Asia or to do business in the region? Join a presentation by HEC Alumni Chapter Presidents and leaders in the region, HEC' International Offices and HEC Alumni to discover what your network looks like in a specific region. ONE PRESENTATION, ALL YOUR HEC MAIN KEY CONTACTSThursday 9th July12pm CET / 6pm Beijing / 6pm Hong Kong / 7pm Japan This presentation will include :- #1 Network: Short Introduction to HEC Alumni and International Network news- Introduction of your HEC Key contacts in Asia- Short country presentations with leaders from China, Hong Kong, Japan, Malaysia, Singapore, South Korea and Taiwan. - Q&A ---------------------About this project: Initiative by Lea Pasdeloup and Alyssa DominioniThis initiative was launched mid 2020 by the HEC Alumni Network Team, to allow our global network of alumni and graduating students to learn about markets in specific regions and industries: trends, key players and sectors recruiting... as well as picture the HEC network there to create opportunities for further interactions.This series will cover all regions of the world with regular presentations all year long involving HEC Alumni Chapters, HEC International Offices, local experts... It will also be duplicated to "Boost Your Network in... Consulting" #IndustryWebinarSeries for example to cover different industries. Stay Tuned! If you have any questions do not hesitate to contact : Léa Pasdelouplea.pasdeloup@hecalumni.frInternational Network ManagerHEC Alumni
https://www.hecalumni.fr/event/boost-your-hec-network-in-asia-regionalwebinarseries/2020/07/09/6744
La date limite de clôture des inscriptions est passée.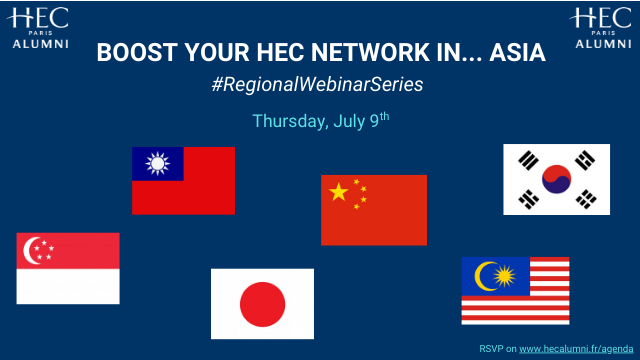 "Boost Your HEC Network in... Asia"
#RegionalWebinarSeries

Ever wondered who you can contact before moving to Asia or to do business in the region?
Join a presentation by HEC Alumni Chapter Presidents and leaders in the region, HEC' International Offices and HEC Alumni to discover what your network looks like in a specific region.
ONE PRESENTATION, ALL YOUR HEC MAIN KEY CONTACTS
Thursday 9th July
12pm CET / 6pm Beijing / 6pm Hong Kong / 7pm Japan
This presentation will include :
- #1 Network: Short Introduction to HEC Alumni and International Network news
- Introduction of your HEC Key contacts in Asia
- Short country presentations with leaders from China, Hong Kong, Japan, Malaysia, Singapore, South Korea and Taiwan.
- Q&A
---------------------
About this project: Initiative by Lea Pasdeloup and Alyssa Dominioni
This initiative was launched mid 2020 by the HEC Alumni Network Team, to allow our global network of alumni and graduating students to learn about markets in specific regions and industries: trends, key players and sectors recruiting... as well as picture the HEC network there to create opportunities for further interactions.
This series will cover all regions of the world with regular presentations all year long involving HEC Alumni Chapters, HEC International Offices, local experts...
It will also be duplicated to "Boost Your Network in... Consulting" #IndustryWebinarSeries for example to cover different industries.
Stay Tuned!
If you have any questions do not hesitate to contact :
Léa Pasdeloup
lea.pasdeloup@hecalumni.fr
International Network Manager
HEC Alumni
Diffusé sur :
Indonesia, Thailand, Australia, United Kingdom - HEC UK Alumni, Japan, HEC Alumni Germany, Singapore, China, Malaysia, Taiwan, Vietnam, HEC Alumni - Korea chapter, Ireland