Résumé
Numbers must talk, talks must bring actions, actions must give result and the result must yield benefits.
As for the rest - enjoy the challenge!
Expériences professionnelles
Cfo
Ekinops , Vélizy-villacoublay - CDI
De Janvier 2011 à Aujourd'hui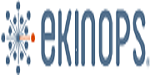 Getting the company to a new level of financial management and control. From a privately held, excel spreadsheet driven we got to a publicly listed company with SAP backed ERP solution. And the cherry on the cake we bought a company 3x our size.
Directeur financier
Agrogénération
De Juin 2008 à Novembre 2008
Chargé d'affaire m&a
Valeo
De Août 2000 à Septembre 2006
Formation complémentaire
Certified Accountant
ACCA
0000 à 2017
Anglais - Courant
Russe - Langue maternelle
Français - Courant
Compétences
Planification, budgétisation, prévision
Négociations internationales
Centres d'intérêt
Wine
fishing
jazz
politics